If anyone knows me, you'll know I'm not adverse to a bit of "twinning-is-winning" when it comes to dressing myself and my kids. (Much to the horror of my hubby and eye-rolling of my childfree friends). But I have to say, I'm not always as obvious as you might think, meaning my hubby cringes less and our twinning is more on a subtle level. Take our mum and daughter matching dresses in Tuscany this last trip, for example. Rather than wear the exact thing, we opted to twin with colour instead…
Please note: the following two dresses were gifted to us by Boden, with no obligation to write or post about them at all. This post also contains affiliate links (which means if you buy something after clicking through, I may earn a few pennies for the recommendation).
Mum and Daughter matching dresses
Over the last couple of years, I've really focused on my personal style and thought about the colours that suit me. I feel good in greens and blues mainly but have also noticed that two pops of colours really seem to suit my skin tone: red and YELLOW! Hence me choosing this amazing yellow dress from Boden…
View this post on Instagram
I love everything about the Freya linen shirt dress (which is now in the sale by the way! and comes in other colours…go go go!) – the colour, the material and the shape. It's the perfect midi-length for me, I love the long sleeves (cover up the wobbly arms and perfect for cooler summer evenings), it has pockets (always a win!) and the tie-waist nips in at just the right point.
I get lots of compliments when I wear this dress and a lot of them are about the colour – there aren't many amazing wearable yellow dresses out there at the moment, so I'm holding onto this one. I also reckon I could wear it with boots and a knitted jumper going into autumn – what do you think?
So onto matching with my daughter…
Flo loves to wear dresses at the moment and going to Tuscany, means we know the weather is going to be good enough to get out the summer dresses we've been saving all year. Her dress is one of my favourites in her wardrobe and although I said I don't always match with my daughter in an exact way, if they did this dress in my size, I'd snap it up! I mean look at it…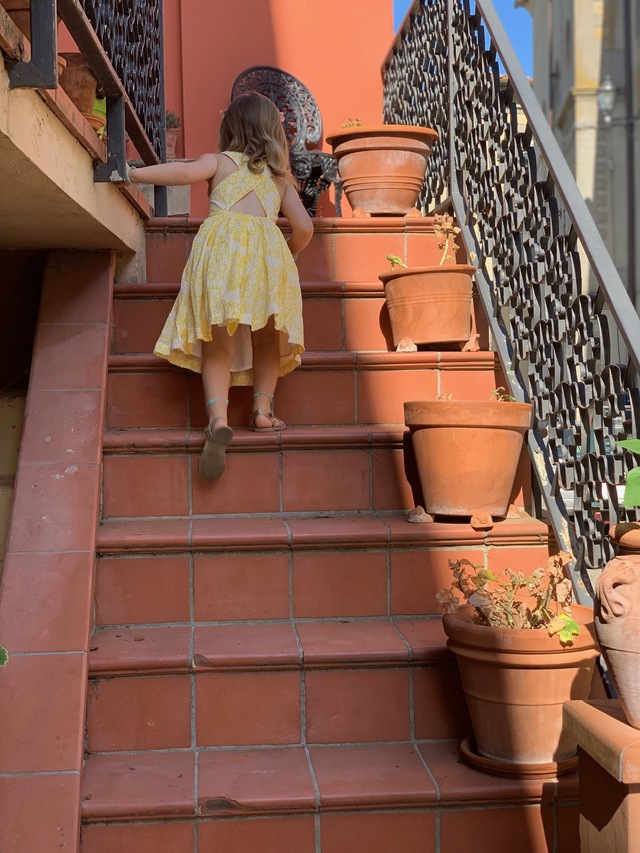 She absolutely loves wearing this dress as she feels like a princess in it! It's lined, which means it holds it shape in the hot weather and is weighty enough to layer up for those cooler summer evenings (or British summer weather!). Flo wore hers with a cardy in the evenings and I think it'd work with a long-sleeved top underneath too. This cross-back summer dress is also on sale and I'm genuinely thinking of nabbing it in the size up for next summer too! (Boden, tip: bring it out in adults size in midi length and it'll fly off the rails!).
Twinning is winning – the yellow dresses!
So of course, Flo and I merrily got dressed into our matching yellow summer dresses and made our way to the nearest Sunflower field in Tuscany. We just about caught the last of the sunflowers as they bowed their heads to Summer and I'm so glad we did.
So there we have it, mum and daughter matching dresses on our recent girly trip to Tuscany (which I'll be blogging about very soon!).
What do you think? Do you like matching with your daughter (or son?) – is twinning really winning? 😉
If you like this, you might also like a post I wrote a couple of summers ago when I matched with Flo as a little toddler.