So we are about to take on one of the biggest projects of our lives (other than bringing up a small human being) and renovate an entire house that will hopefully become the family home we've dreamed of. One of the most exciting elements of the renovation will be an impressive back and side extension to the property which will form an open-plan family living space. So I've begun to think about kitchen extension ideas and here's the areas I've been thinking about…
KITCHEN EXTENSION IDEAS
Natural Light
I think most people's driving force behind adding on space to their house, is not just the additional square footage, but also the desire to incorporate more natural light. The way we live these days, we really appreciate the benefits of natural light, how it affects the space design, as well as how we feel day-to-day.
One of the must-haves with our extension plans is plenty of sky-lights in the roof. Our garden is west-facing, so will benefit from lots of afternoon and evening light, so we want to maximise this.
These two kitchen extensions utilise natural light well.
Bi-fold doors
For much the same reasons as sky-lights, we want to maximise the number of doors leading out onto our garden. They will be double-glazed glass and bi-folding so they can be pulled right back, giving an indoor-outdoor living space, plenty of natural light and fresh-air (which I think we all agree is needed in this country!).
You don't just have to go down the white UPVC route, which can sometimes look a tad old-fashioned. I like this slate grey colour, which I think complements the red brick of the original house well. Hopefully we can achieve something similar to this, with a pitched roof too to maximise ceiling height.
Dining
In our current house, our dining room is fairly small and almost entirely taken over by our antique dining table. It feels quite claustrophobic and doesn't flow well between our kitchen and lounge. This is largely due to space restrictions in our Victorian terrace. There's not much we can do about it.
But in our new house, we will have an entire area within the new extension, that will sit between the kitchen and lounge, that will form an informal but spacious dining area. I love that this dining table and chairs forms a feature in the space, rather than being lost amongst the rest of the room.
Flooring
Flooring is a huge configuration when thinking of kitchen extension ideas. There are so many routes you can go down: tiles, slate, wood etc. Our extension will be entirely open plan and therefore to maximise the flow on the ground-floor, I think we'll need to have the same flooring throughout.
Naturally, my preference is one of the most expensive options (doh!), which is parquet flooring. I think it's timeless, chic and works with most interior design styles. This kitchen extension does it particularly well.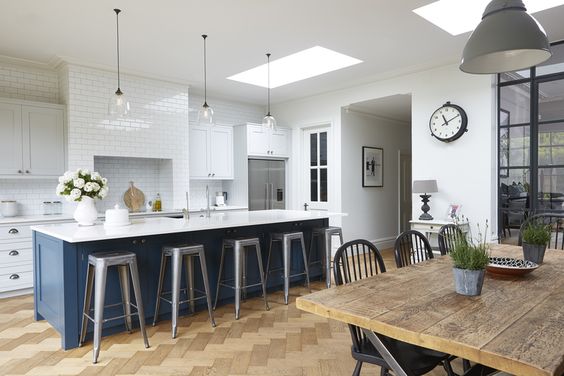 Unique touches
Why bother doing your own house renovation, if you can't make it exactly what you want and add some unique personal touches? I love this idea of including an impressive window seat overlooking their garden. It's probably not something that'd work in our kitchen extension ideas, but I like the thought process.
I want to incorporate something in our extension that is just for us, something unique.
The Wow Factor
The wow factor will mean something different to everyone. But again, why do a major project, if it isn't going to be a bit wow? I love the extension below because it's modern and chic and the small detail of the windows above the doors and having three large doors opening out onto the garden, high-lighted by the outdoor lamps, makes it seriously wow. It's not the average kitchen extension is it?
Open-Plan
Another important factor in our kitchen extension ideas, is the notion of total day-to-day open plan living. Being a young family, we do 90% of our living downstairs in our house. We relax, play, cook, eat and work within our downstairs rooms so it's hugely important to us that we create the ultimate open-plan modern but comfortable living space in our new extension.
We want the kitchen  to feel slightly separate but still very much a part of the dining room, which will lead out onto the garden and over into the lounge area, which will also overlook the garden. We want to me able to seamlessly move from one space to the other.
So here are just a few of my kitchen extension ideas so far. Next stage is to focus the ideas into a bit of a mood-board (which I'll be sharing with you) and create a more precise plan for what we'd like to create once our renovation is underway in the new year.
Have you undergone any house renovations? I'd love to hear about them!