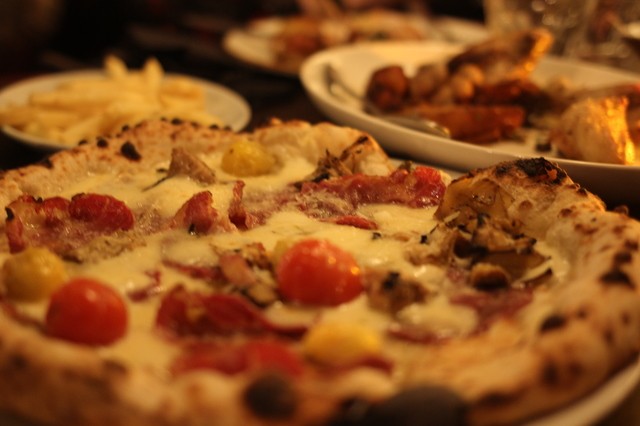 As you must all know by now, I love Italy and I love Italian food, so when I was invited to the soft launch of Tre Ciccio, a new Italian restaurant in Altrincham, I jumped at the chance to head on over and see what it was all about…
Tre Ciccio – A Neighbourhood Italian
Altrincham is fast becoming a staple on the foodie scene of Greater Manchester, with it's amazing covered Food Hall in the market and it's vibrant independent restaurant scene. Even in the 6 years I've been living in Manchester, the town centre has gone from a bit of a ghost-town which didn't seem to have a community or buzz to it, to a super exciting place to visit with friends and family that people regularly frequent.
I've been enjoying working my way through the foodie scene there, having paid a few visits to Bistrot Pierre already, as well as the street food traders in the market, but I have to admit I got more than excited when I heard there was to be a new Italian eatery in town!
The Restaurant
Tucked away on the bridge, just off the main high-street and headed towards the large Tesco, you could be forgiven for missing Tre Ciccio as it's understated and discreet from the outside. The cool, almost New York-Italian inspired branding indicates where you can enter and as soon as you walk in, you're faced with an impressive pizza oven and friendly faces. Love it already!
You're led downstairs to where the restaurant and seating is, under-ground, which makes the place feel even more hip and cool (did I just say "hip"!?).
There was a group of us at the launch, so we were led to a comfortable and spacious booth, with views over the rest of the restaurant and through to the busy kitchen too.
I was instantly hit by the relaxed vibe, friendly faces and undoubtedly Italian warmth and couldn't wait to delve into the menu. So without further ado…
What we ate…
As we were all foodies and all keen to try as much of the menu as possible, we decided to share a number of the Antipasti and went for…
Pane e Pinzimonio (a selection of warm focaccia and crisp breads with olive oil and balsamic), Cuoppo Fritto (street-food style fried calamari, shrimps & small fish, served in a paper cone with lemon & roast garlic mayonnaise for dipping), Bocconcini Fritti (deep fried mozzarella bites with basil and homemade tomato sauce) and Rotolini (baked pizza bites stuffed with Italian cured ham and fior di latte cheese).
I could have happily demolished the whole lost myself, but alas, we were sharing so I had to be polite. All was delicious and I particularly liked the light and crispy batter and crunch of the shrimps and the smokey gooeyness of the Rotolini.
Then onto mains...and I have to admit, I was surprised to not see one pasta dish on the menu. After about 5 seconds of disappointment, I realised that in fact, that was a good thing, as I always choose pasta (and I make pretty good pasta myself too!), and that it gave me the kick-up-the-bum to try something I wouldn't necessarily order.
I really do love pizza, but I could see that their Pollo Arrosto e Patate (roast chicken and potatoes "Italian style"), was clearly their special and who was I to turn that down!? I went for the option "con funghi" with mushrooms and shared it with a fellow diner. I love that you have the option of ordering for two…it's a really fun and family way of eating and when the chicken came out on the platter, sizzling from the oven and sat on a bed of potatoes, I couldn't wait to feast!
The chicken was great, moist and well cooked but I have to stay the stand-out, mouth-watering, winner of the day was the roast potatoes! They were perfection! Soaked in the cooking juices from the chicken, perfectly seasoned, a bit of crunch and soft on the inside…we were fighting over them!
As with every good Italian menu my favourite Contorni (or side dish) or Zucchini Fritti features. So it was promptly ordered and was the perfect accompaniment to the roast chicken and potatoes. The zucchini fries were just as I like them, nice and thin and crispy with a light, salty batter. Mmmm…
I have to also give a special mention to the pizza here…because we were all picking-off each others plates, I did happily and graciously receive a slice or two of pizza from my fellow diner and therefore have to give a shout-out to the Capocollo Gourmet Pizza which was absolutely divine. With sliced coppa (Italian meat), marinated artichokes, confit cherry vine tomatoes, fior di latte cheese and parmesan shavings, it was everything I love on one pizza. The dough was the perfect thickness, not too thin and crispy round the edges but soft where it should be. A really good size too (in fact, the hubby got some in a pizza box brought home for him…lucky devil!).
And finally, Dolce…
And no Italian meal is complete without dolce (or dessert). Again, the benefit of dining with fellow foodies is that we all wanted to try everything, so we ordered a selection and dipped into each others. I had the Torta al Limone which was spectacular, far creamier than I expected with just the right amount of zest and bite. The Tiramisu wasn't my favourite, but I'm not a coffee-lover so am not the right person to judge but the Torta al Cioccolato deserves a mention too as for a chocolate torte, it was surprisingly light, not too rich and lovely and molten in the middle…perfectly accompanied by pistachio ice cream.
Il conto per favore…
I have to say, that as someone who loves Italian food, I was not disappointed with our experience of Tre Ciccio. The warm service, friendly chat and great, simple, honest, well-cooked food went down an absolute treat. At somewhere around the £25-30 mark for 3 courses (drinks on top), I think it's a really reasonably and approachable priced menu. It's somewhere you could go with friends for a catch-up over a couple of pizzas, or a romantic 3-course dinner with your loved one.
I'm also excited to take the little lady along and sample their Bambino's Menu and have heard it's a really kid-friendly place too.
So if you're looking for somewhere new to try for date night or a gals night out, definitely give Tre Ciccio a try as I don't think you'll be disappointed.
Thanks to the restaurant for inviting me along to your soft launch – I can't wait to come back!