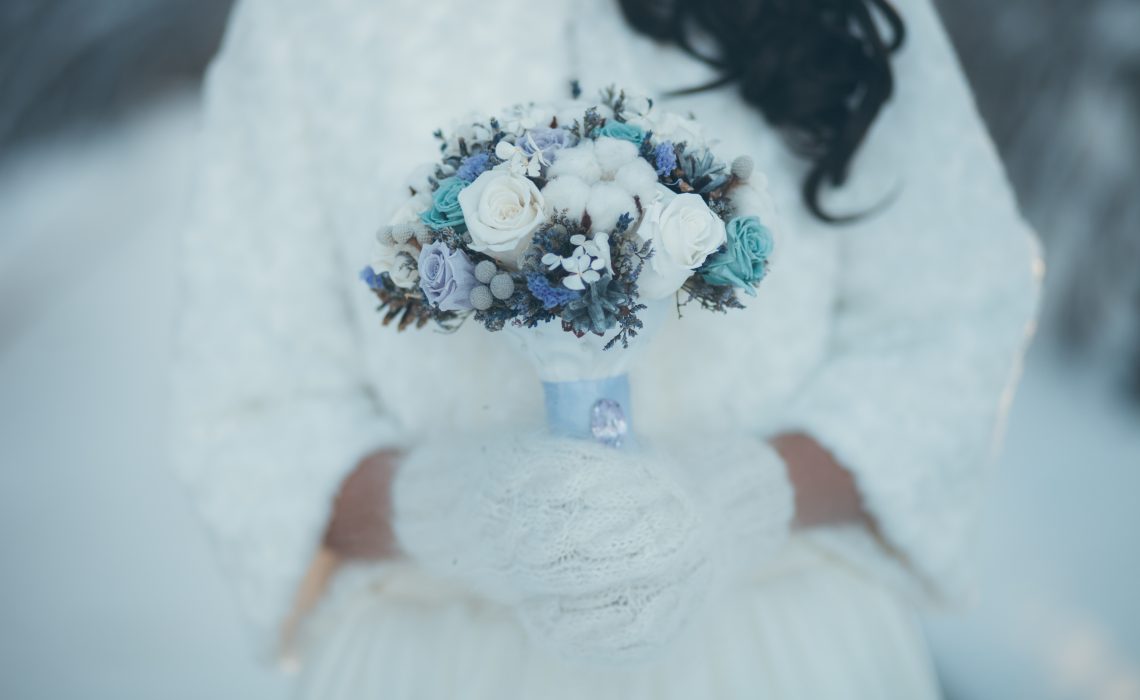 It's January, it's cold and it's dark. You might not think this is the time of year for a wedding, but you'd be wrong! A twinkly, warm, cosy and sparkling Winter Wedding is the stuff dreams are made of. So consider September – March as months for your wedding date. But what about a theme?…
Winter Wedding Theme Ideas
Winter weddings are exciting. Not only is there the anticipation around Christmas and the New Year, but the added celebration of a couple finally tying the knot creates an air of romance across the winter months. Once the diamond ring is in place, it's time to start considering when and where you intend to marry and important details such as décor and colour schemes.
So you've chosen a winter wedding? When it comes to themes, take your pick from the following suggestions, for a winter wedding you and your partner will never forget:
Winter wonderland
Icy blues, crisp whites, warm berries and accentuating silver colours will help you create the perfect winter wonderland for your wedding. Ensure table decorations feature plenty of sparkling crystal to remind guests of icicles and all things chilly, silver urns for wintery romance while Baileys hot chocolate and warm apple cider is handed out to guests after the ceremony.
Glitter and sparkle is your friend when it comes to this theme, as you liberally throw it onto the tables with nod towards fresh powdered snow. Twinkling white fairy lights draped around the room will make the whole place feel like a true winter wonderland and add warmth and romance in the cold weather.
Dress your bridesmaids in a cool grey and for the groomsmen, navy suits work perfectly. When it comes to flowers white gypsophila (baby's breath) is not only simple but beautifully complements a winter wonderland setting.
Red, green and gold
Festive colours are also perfect for the winter wedding, particularly those in September to December, with strong reds in season, greens and golds which you can feature within the décor, as well as bridal party clothing: a dark forest green will look stunning on bridesmaids or perhaps a strong deep burgundy. Adorn their hair with flower crowns made up of poinsettia leaves, green foliage and red winter berries and make yours even more spectacular – use this as inspiration.
For the tables, pine cones used as place card holders are a nice touch and gold cutlery with red napkins work perfectly together. You could even DIY some of these elements yourself, for a personal touch.
Image sourced using Shutterstock. 
Cosy comforts
You may be worried that a winter wedding could feel cold? On the contrary, fairy-lights, candles and cosy faux fur blankets can create a warm and cosy feel for you and your guests. I can't tell you enough how beautiful flickering candle light is at this time of year and such a cost-effective option! If your venue has an open fire or you've opted for a teepee wedding with a fire-pit, ask to have this set up and roaring for when everyone sits down for dinner.
Warming drinks such as spiced mulled wine and a wedding breakfast of a hearty roast are the best options when striving for a comforting winter wedding experience. For the bride, a long sleeved dress is the perfect choice or a fluffy faux fur stole for a touch of winter chic (don't forget to keep your bridesmaids covered up too)! Plus it looks great in photos…
Image sourced using Shutterstock. 
So thinking of a winter's wedding?
Adopt one of these winter wedding themes and you'll have a day that you and your partner can look back on fondly and your guests will always remember!
It's not just about the summer!
Are you planning a wedding? When's the date? Head over to my Wedding Planning Pinterest page for more inspiration.